FarSite continue its commitment to producing the most cutting edge bin sensor, in Q2 2018 you can benefit from our LTE Cat M1 nPod.
The telecommunication industry is now fully committed to internet of things specific solutions, full scale commercial networks are now becoming available in all corners of the world.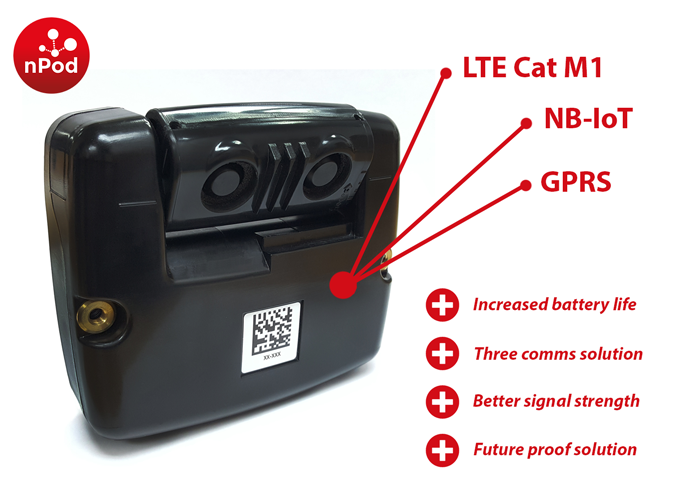 LTE Cat M1 is currently leading the way in IoT network availability with North America, Australia, China, Sinagpore and mainland Europe jumping on board.
Future Proof sensors:
As a specialist in data communication FarSite is ensuring that is products are at the forefront of IoT communications. With our recent announcement about NB-IoT we are now adding LTE Cat M1 to the same offering. netBin nPods will have the ability to connect over NB-IoT or Cat M1 enabling extraordinary coverage, reliability and battery saving communication.
FarSite's smart waste management bin sensors require a reliable and widely available technology that will perform without issue. Unlike LoRa our LTE Cat M1 and NB-IoT nPod will fit into the existing cellular network easily and provide excellent redundancy, security and battery saving communications.
Why LTE-Cat M1?
LTE Cat M1 is the next step in reduced power and reduced bandwidth LTE comms. It has some excellent features that lend themselves to the netBin solution.
Reduced power consumption- longer battery life and more updates per day from the nPods
Excellent signal penetration- Increased reliability of connections in large buildings and increased battery life.
Uses existing cellular towers- fast roll out to existing infrastructure across the world, most towers require only a software upgrade to enable LTE Cat M1.
Security- LTE Cat M1 is secure
Combined chips- LTE Cat M1, NB-IoT capability within one nPod gives great redundancy.
Future proofing- our nPods are designed to be deployed for years so need to be ready for the future.
When can you get Cat M1 and NB-IoT bin sensors?
We will be offering NB-IoT sensors from Q2 2018 to those countries that have CatM1 or NB-IoT networks running commercially. The list of countries running these is growing every day and we expect to sell 1000s of devices in the next few months. If you are interested in using Cat M1 and NB-IoT fill level sensors then register your interest for a test device here.
Call us on 01256 330461, email us on moc.etisraf@toi or visit our website iot.farsite.com
About FarSite Communications
FarSite is the developer of the smart city focused netBin waste monitoring product suite and has also developed wide variety of data communication products and services for the business sector. These products include Gateways and M2M / IoT products, supplied through a global network of distributors, with products shipped to over 100 countries.
The company is based in Basingstoke UK and Guangzhou, China and can boast export sales to a highly prestigious international client list. These include some of the world's leading names in the banking, government, aerospace, military and retail communications sectors.
FarSite is a past winner of the Queen's Award for Enterprise – International Trade category
Press information from:
Lloyd Scott, FarSite Communications Ltd.
T +44 1256 330461