Software Downloads
Download software and upgrades for FarSite Communications products
If you have received a Software Fulfilment Code sheet as shown in this image, use the ENTER CODE link on the right or below for direct access to the download.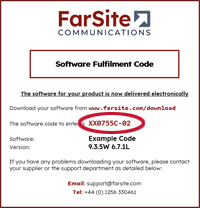 The list below includes product updates and upgrades, but you should always install initially with the full product software provided by a fulfilment code.
For updates and upgrades, find the product name or product code below for the item you have purchased and click on the corresponding links to download or request the latest software/firmware for that product.
Do you have a software fulfilment code?
If you've been given a software fulfilment code enter it here:
FarSync Serial Communications Devices
Product
Product code
Type
Downloads available
FarSync Flex
FarSync T2Ue
FarSync T2Ee
FarSync T4Ue
FarSync T4Ee
FarSync TE1e
And other older cards
FS4100
FS4250
FS4256
FS4450
FS4456
FS4155
Serial Communications Devices
FarSync Device Software FarSync Drivers 6.3.0W
FarSync X.25 Communications Devices
Product
Product code
Type
Downloads available
FarSync Flex X25
FarSync X25 T2Ue
FarSync X25 T2Ee
FarSync X25 T4Ue
FarSync X25 T4Ee
And other older X25 cards
FS6100
FS6250
FS6256
FS6450
FS6456
X.25 Communications Devices
FarSync X.25 Device Software