We are constantly improving and expanding netBin features and the new year brings some significant improvements to the netBin HUB. Our in-house developers have focused on data visualisation and routing intelligence.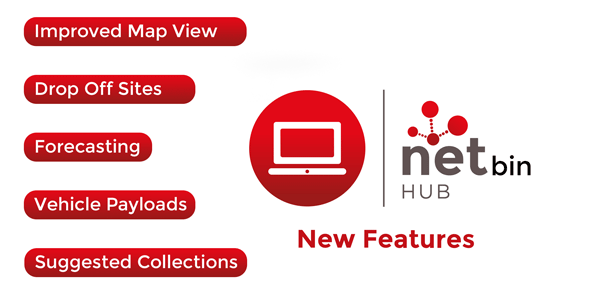 New netBin features for the HUB
[unordered_list style="tick"]
Forecasting- netBin HUB uses historical data for each nPod to forecast when bins are due to be full . This powerful netBin feature will enable collections to be planned ahead of time for example over the weekend.
Suggested Collections- when a user creates a collection route netBin HUB will suggest other bins on route that could be collected with minimal cost.
Vehicle Payload Considerations- when users create a route the estimated weight of contents  at sites is used to ensure only realistic routes are issued to collection drivers. 
Drop Off Sites- netBin HUB will now enable you to have multiple drop off points in one collection routes, better still the route is optimised to arrive at appropriate drop off site when the vehicle is nearing its maximum weight.
Container Estimated Weight- Each container being monitored now displays its estimated weight.
Map View- our popular map view has a new layout maximizing the map size while retaining its powerful filtering features.
Collect App Links-  Our netBin collect has had several enhancements but now allows bin by bin status information on the HUB's route details page, this allows real-time task tracking for office based managers.
[/unordered_list]
For more information or a demo of the system please get in touch.